2020 Audi S8 Unveiled Globally
Posted On 17.03.2019
Audi has finally landed the less-civilized version of its rather civilized A8 executive sedan. The current generation of the A8 was launched a couple of years ago and soon enough the S8 prototype was spotted testing at the Nurburgring. Since then, it took Audi two years to finally unveil the 2020 Audi S8. In fact, Audi has an entire slew of cars that they have been testing for long and are scheduled to launch in 2020.
But lets come back to the S8 and address the numbers first, because they are rather impressive. The 2020 Audi S8 is powered by a 4.0L, twin-turbo, V8 engine that churns out 555 bhp and a massive 800 Nm of peak torque. It however is quite heavy at 2.5 tons. As with all new cars, it also gets a 48V mild-hybrid system which gives better efficiency in start-stop traffic conditions and better off the line performance as well.
Interestingly, horsepower is down by 34 bhp from the last generation S8 but it makes up with far greater torque this time around. The 2020 Audi S8 also packs in quite some fancy technology to put down all that power on the road, effectively. It gets predictive active suspension which can independently raise or lower each of the wheels. There are cameras and sensors on the front bumper which constantly read the road ahead and prepare the suspension for the impact.
However, this being an S8, it needs to do more than just offer a comfortable ride. The predictive active suspension can also lower the inside of the car in a corner to reduce body roll to just 2.5 degrees in the dynamic mode compared to 5 degrees in the comfort mode. It also gets other mechanical bits like the Quattro all-wheel-drive, all-wheel steering, a sport differential and carbon fibre ceramic brakes which measure at 16.5-inch in the front and 14.6-inch at the rear.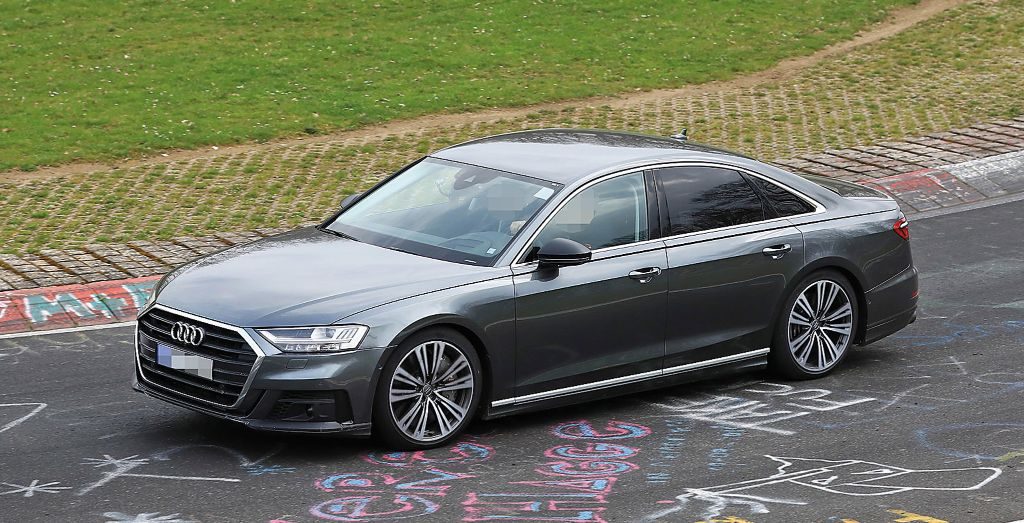 As for the looks, the 2020 Audi S8 does not look significantly different from the regular A8. It gets a revised front bumper with silver inserts and they do look quite sporty. At the rear, there's the quad exhaust pipes and the 'S' badging on the tailgate. The S8 also gets large, sporty looking, twin-five spoke alloy wheels. Audi's have always maintained an understated design and so is true with the S8 as well.
On the inside, the differences are far more subtle. There's an exclusive upper inlay made of Carbon Vector that creates a special 3D effect. There's also matte aluminum trim on the dashboard and door panels and the seats are diamond-stitched with embroidered 'S' badging. That's all to differentiate it from the A8 sedan. In the top-spec S8, the car will also be equipped with five radars, six cameras, twelve ultrasound sensors and a laser scanner.